ABOUT BALANCE
Everyday driving can affect the balance of your tires. We explain how your tires can come out of balance and how routine inspections for tire rotation and balance can extend the life of your tires and increase your driving enjoyment.
You may have noticed small metallic weights placed on the rim of your tire. These weights help the tire and wheel assembly remain balanced at all speeds. At high speeds a tire that is not balanced properly can generate severe vibrations. An unbalanced tire and wheel can also lead to irregular treadwear and shorten the life of your tire. Quality-made tires with higher uniformity require fewer wheel weights.
Some expensive alloy wheels can be damaged with the use of standard lead weights and may require the use of a coated weight.
ABOUT ALIGNMENT
Proper wheel alignment can help extend tire life. Toyo Tires helps you identify if your vehicle is out of alignment, explains what the alignment process includes, and defines common alignment settings such as positive and negative camber and toe-in and toe-out.
Misalignment of wheels in the front or rear, improperly operating brakes or shock absorbers, bent wheels, worn bushings, and any other mechanical problems can cause uneven and rapid treadwear. Each of these situations should be corrected immediately by a tire dealer. Front-wheel-drive vehicles, and those with independent rear suspension, require alignment of all four wheels. Have your alignment checked periodically as specified by the vehicle owner's manual or whenever you have an indication of trouble such as pulling or vibration in the steering wheel. It is also important to note that front-wheel-drive vehicles and those with independent rear suspensions require special attention, and alignment should be checked periodically. A bad jolt – such as hitting a pothole – can throw your vehicle out of alignment. Such an impact can also bend the rim, causing a loss of air pressure and damage to your tires with little or no visible evidence present.
Tire Inspections
UNEVEN WEAR
At least once a month, inspect your tires closely for signs of tire damage such as cuts or punctures as well as uneven or excessive wear. Uneven wear patterns may be caused by improper inflation pressures, misalignment, improper balance, or suspension neglect. If not corrected, further tire damage will occur. If you discover uneven wear, bring your car to your nearest Toyo Tires dealer. In many instances, the dealer can correct the problem so you can continue to use your tire.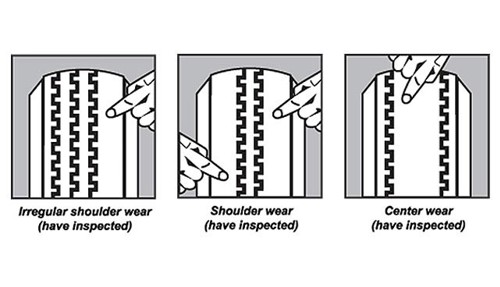 EXCESSIVE WEAR
When the tread is worn down to one-sixteenth of an inch, the tire is worn out and it is time to replace it. Built-in tread wear indicators, or "wear bars," which look like narrow strips of smooth rubber across the tread, will appear on the tire when that point of wear is reached.
Other Things to Look For:
Look for any stones, bits of glass, metal, or other foreign objects in the tread or sidewall. These may work deeper into the tire and cause air loss.
If any tire continually needs more air, have your Toyo Tires dealer check to find out why it is leaking. Damage to the tire, wheel, or valve may be the problem.
If you have any further questions please visit a Toyo Tires dealer.
TIRE DAMAGE – REPAIR OR REPLACE?
Which types of tire damage are serviceable? The answer to that question depends upon the injury itself. Every injury, including punctures, scrapes, bulges, separations, or cuts should be evaluated by your Toyo Tires dealer. Often, small punctures isolated to the tread of the tire can be repaired by a professional. It is important that the tire is repaired using the Rubber Manufacturer Association's guidelines for permanent repair.
Ignoring a damaged tire and continuing to drive on it can turn an inexpensive fix into an expensive problem. Damaged tires lose air, causing their operating temperature to rise, which can cause some components to separate, or damage the tire body in ways that ruin it.
You can never play it too safe; if your tire shows visible damage or you suspect hidden damage due to small punctures or impact, consult your Toyo Tires dealer.
TIRE WEAR – IS IT TIME TO REPLACE?
Tires should be replaced when the tread is worn down to 2/32nds, or one-sixteenth of an inch. Checking the tread depth of your tires costs just a penny! Take a penny and insert it into the tread with President Lincoln's head down. If you can see the top of his head your tires are at or below 2/32nds. If a portion of his head is covered, you have more than 2/32nds. Built-in treadwear indicators, or "wear bars," which look like narrow strips of smooth rubber across the tread, will also appear on the tire when that point of wear is reached. Tires may need to be replaced sooner, if there is excessive uneven wear, meaning one area of the tread is significantly more worn down than other areas. This uneven wear can cause further damage.
TOYO TIRES